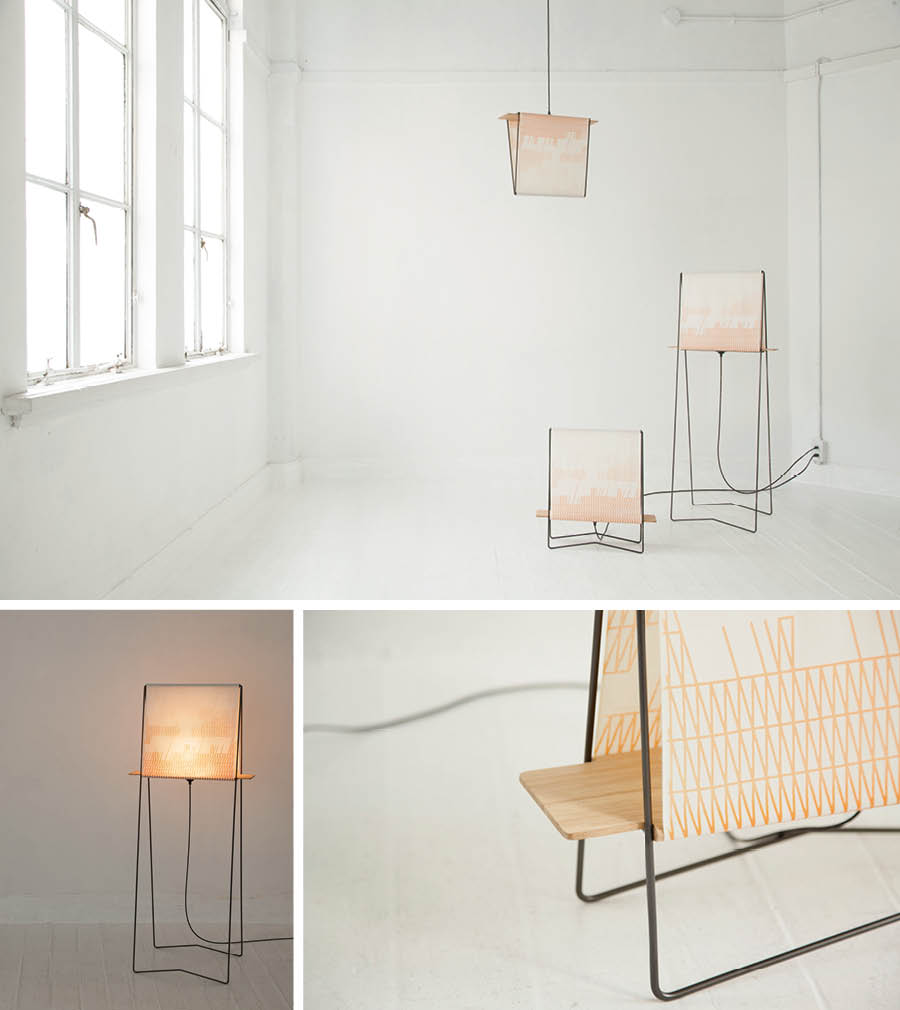 INFORMATION ー
RACK is a folding lamp made to take advantage of the excellent qualities of Osaka Sakai traditional handicraft, chusen-zome (hand-dyed cloth).
The natural percolation of ink from hand-dyeing, known as nijimi, and the beautiful hues that diffuse therefromwhen backlit project a great tranquility on a space. The cloth is the same as a tenugui handkerchief. As such, it can be easily changed, acting out the seasons or transforming a space through various decorative configurations.
As you enjoy the changing colors and patterns, RACK will become a long-time companion. RACK is painstakingly crafted from long-lasting, all-natural materials. It is light, can be assembled simply with no tools, and can be easily flattened and compactly carried anywhere.
The design was inspired by the nostalgic tenugui-kake towel racks found in Japanese traditional inns. These racks are simple and spartan, hardly noticable until the instant one hangs a vividly colored tenugui upon them and they shine beautifully.
RACKã¯å¤§é˜ªãƒ»å ºã®ä¼çµ±å·¥èŠ¸â€æ³¨æŸ"æŸ"ã'â€ã®å"ªã'ŒãŸç‰¹æ€§ã''活かした折ã'Šç•³ã¿å¼ã®ãƒ©ãƒ³ãƒ—ですã€'バッã'¯ãƒ©ã'¤ãƒˆã«ç…§ã'‰ã•ã'ŒãŸç¾Žã—ã"色合ã"と、手æŸ"ã'ãªã'‰ã§ã¯ã®è‡ªç"¶ãªâ€ã«ã˜ã¿â€ãŒç©ºé–"に豊かな安ã'‰ãŽã''æ¼"出しますã€'
生地に使用している"手ぬぐい"は簡単に取り替える事ができ、四季を演出したり、様々なデコレーションで空間に変化を与える事ができます。色柄の変化を楽しみながら、長い時間の流れを共に過ごす事のできるランプになるでしょう。
ずっと使えã'‹è‡ªç"¶ç´ 材のみã''、丁寧な職人技で仕上ã'たRACK。とても軽量で、道具を使わず簡単に組み立てる事が出来、畳むとコンパクトでどこにでも運ぶ事のできるあかりです。
日本の伝統的な旅館で見る事のできる、懐かしい手ぬぐい掛けをイメージしたデザインのRACKã€'手ぬぐã"ã''かã'てã"なã'ã'Œã°ç›®ç«‹ãŸãªã"、そã'"ãªç´ æœ´ãªå­˜åœ¨ã§ã™ãŒã€è‰²é®®ã'"かな"手ぬぐã""ã''かã'た瞬é–"、美しく輝き始ã'ã¾ã™ã€'
CREDITS ー
Client: Katarai, Limited.
Project: product / branding / naming
Year: 2014
Photography:Â Yuko Shimada / Oliver Franz